Williston Drill Team: Wonderettes Varsity
Hang on for a minute...we're trying to find some more stories you might like.
Did you know that some people don't think dance is a sport?
This surprises me because, being on the team myself, I know how much time and effort it takes to be in dance. Varsity Wonderettes practice is five days a week for two hours after school. We also have our performances every weekend in December, except for during the break. Furthermore, we travel to Minnesota for regionals and Florida for nationals. My team and I are not only friends but we're family; we work together and love one another through thick and thin.
Here is an interview with the captain of the varsity team, Journey Benz.  I asked her about her dance experience so far and her future plans.
1. How long have you been dancing? Why have you continued to dance?
● I've been dancing for four years and at first, I just started because of friends but now I just enjoy the sport and I've accomplished a lot.
2. How would you describe your relationship with your teammates?
● Fairly good; I haven't really had any problems with anyone.
3. What type of stress would you say comes with being the captain of the team?
● Feeling like a girl isn't enjoying her time there or is having troubles with the dance and knowing you can't really help her. Or when there is a loss, like we don't place, you feel like it's your fault.
4. Do you plan to continue drill team till you graduate? Do you plan on continuing dance in your future plans?
● Yes, I want to continue dance until graduation and I'm thinking about trying out for the NDSU Bison.
5. What would you say the high and low points of drill team are from your point of view?
● High is being able to perform and getting costumes and seeing my friends every day and winning competitions. And the low is when we lose a girl to injury or when we have troubles cleaning and or performing because it upsets every dancer and effects all of us.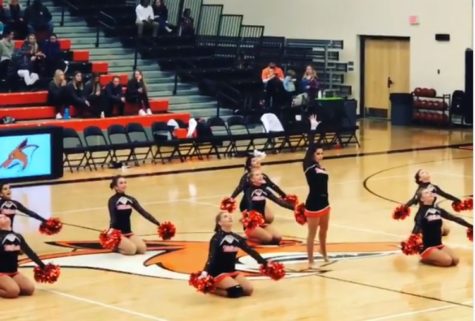 We are heading out Friday, January 5th from Minot to Minneapolis for regionals, which is a regional competition for drill teams and dance studios in all states around Minnesota. Wish us luck!