Senior Spotlight on WHS Girls Hockey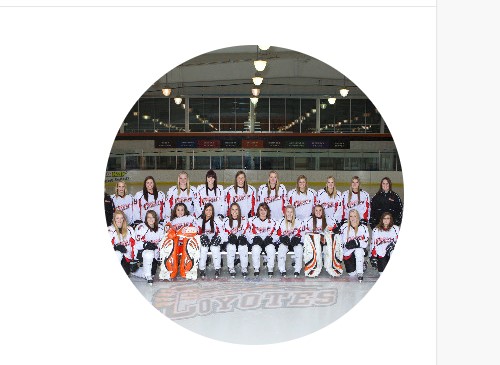 Hang on for a minute...we're trying to find some more stories you might like.
WHS Girls Hockey: Senior Spotlights
The senior girls shared some reflective comments on their final year of high school hockey: 
Do you view yourself as a leader to your team? Please share examples of your role on the team.
Lynze  Swanson: Yes, I am one of the top defensemen and am expected to be able to get the puck out of our zone and protect our goalie.
 Kaia Wenstad: Yes, I am the captain. I help people on and off the ice.
Kennon Schmit: Yes, experience; I've been playing varsity for 6 years, [and] keep everyone calm and composed.
Neige DeLaunay: As a senior, my job is to be someone the younger girls can look up to. It has many responsibilities and they aren't always easy, but they are extremely worth it.  
Describe the relationship you hold with your teammates; how do you all get closer?
Lynze Swanson: I am always the sarcastic one and the jokester. 
Kennon Schmit: "team mom."
Tierra Luther: We are like a family. 
Kendra Davis:  Even during the summer we still get together.
Mattie Johnson: Family; we have scheduled team bonding and team breakfasts to become closer.
Name something or someone who inspires you; share why.
Lynze  Swanson: Coach Ekblad is someone who inspires me because he pushes me to not only work hard and do my best in hockey but also in life. [Editor's Note: All teammates mentioned their coach as an inspiration.]
Kennon Schmit: coaches and teammates.
Neige DeLaunay: My dad inspires me because he grew up with so little and now has so much. He pushes everyone around him to be their very best.
Share a life mistake made and how you overcame it (sports-related or other).
Lynze  Swanson: Three years ago I checked a girl from behind and got a game misconduct and couldn't play the next game; I learned that my short fuse can get the best of me and I have to be able to tame it.
Kaia Wenstad: Not really a life mistake, but I tore my meniscus and had to play through it becuase I didn't want to be out. It slowed me down. One of my regrets.
Kennon Schmit: Not taking my 7th, 8th, and freshmen years of hockey seriously. Work hard at every practice take advantage of the opportunity.
Neige DeLaunay: Getting bad grades and not being able to play was a life mistake for me because my team needed me and I let them down, I overcame it by getting my grades up and not doing it again.
Mattie Johnson: My first year on varsity, I was careless. I realized how valuable I could be to the team and I changed my work ethic around.
Whitney Pflug: Not playing hockey my junior year or starting right away my senior year; I overcame it by working hard and always showing my best performance. 
What are your future plans? Do they include sports?
Lynze  Swanson: I plan on going to Concordia College to continue my education and hockey career.
Kennon Schmit: a four-year college.
What do you believe you brought (or can bring) to the team?
Lysne Swanson: I believe that I bring the grit and grind to the team and bring the energy to go hard and be aggressive.
Kaia Wenstad: My dance moves and reassurance to the team.
Kennon Schmit: I play with heart and I have the right attitude.
Tierra Luther: Speed.
Kendra Davis: My strength is my speed and the ability to know what I'm doing and why. My heart for hockey is what drives me. You're only a senior for so long.
Neige DeLaunay: I bring focus and dedication.
Do you have any rituals you must perform before a game and why?
Lynze Swanson: I always have to chew gum during warm-ups, superstition.
Kennon Schmit: Yoga, listening to music, and dancing.
Whitney Pflug: I listen to music and stretch; this helps me focus and settles nerves.