The Holocaust: History and Memory: New Class Offering for Next Year!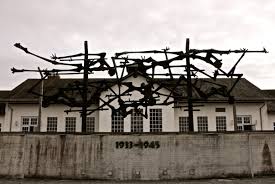 Hang on for a minute...we're trying to find some more stories you might like.
The Holocaust: History and Memory: Class Description
Class Type:         Elective
Grade Level:      11-12
Credit:                 ½ credit
Studying and understanding the events of the Holocaust is a complex matter. This course closely examines the history and memory of Nazi genocide. Topics include antisemitism and racism, Nazism and genocide, collaboration and resistance, ghettos, concentration camps, resistance, and memory of the Holocaust in the United States. Class readings will cover a wide range of materials, including scholarly works, primary sources, memoirs, video testimonies, films, and art.
Introduction from Mrs. Hall: 
When I was in college I took a class about the Holocaust. It was a 7 pm night class once a week for three hours; everyone thought it would be a drag to discuss such a dark subject at the end of a long day. The class was so intriguing that week after week the class didn't move as 10 pm came and went. We watched documentaries, read memoirs, and grappled with tough issues of blame, remorse, and forgiveness. I have always wanted to re-create a course similar to this at WHS, but I always felt the need to have experienced aspects of the Holocaust myself before I could teach it well.
I have been to the US Holocaust Museum in Washington, DC on many occasions, but a few years ago I flew to Amsterdam to visit the secret annex where Anne Frank hid. With a group of teachers, I traveled to Sachsenhausen, the first concentration camp built by the Nazis. We visited Halberstadt, Germany where not a single Jew survived and only has a former synagogue and decimated Jewish cemetery left behind. Our group attended the Jewish Museum of Berlin and Holocaust memorials through Germany. During the summer of 2017, I visited a friend in Austria and we went to Mauthausen-Gusen Concentration Camp where labor what used to work the granite quarries. We also traveled to Budapest, Hungary to visit the Dohány Street Synagogue which became the ghetto for Hungarian Jews when the Nazis captured the city. Many of the last shipments of Jews during the Holocaust that where killed came from this previously protected Budapest community. After experiencing places like these I am better equipped to understand and share with students the complexity of the Holocaust. I want to convey to my students that they are very much like the locals that witnesses the brutal injustice of anti-Semitism and limits sanctioned by the Nuremberg Laws which threatened the way of life for every European.
The lessons of the Holocaust are important for modern society to use to make changes to better humanity.
"I swore never to be silent whenever and wherever human beings endure suffering and humiliation. We must always take sides." 
― Elie Wiesel,  Acceptance Speech, on the occasion of the award of the Nobel Peace Prize in Oslo, December 10, 1986
Kari Hall
Williston High School
Social Studies Department Chair