Acknowledge Me: Gothic Literature Short Story
Hang on for a minute...we're trying to find some more stories you might like.
I pulled up to the Victorian style house in my beat up black Volkswagen Jetta, and stared for a few moments. The place was almost as beautiful as Grace with its appearance of nature corroding the outside, but nothing could surpass her beauty. I loved her so much, yet she never did. She didn't notice me until that night.
The house was miles away from the nearest town, 42 away from my apartment. It was old, fancy, and it had tall ceilings. I remembered seeing it on the market, but then I found Grace at the open house. I longed for her to have it since it was the best. The other people who wanted it? Don't fret my friend, I took care of them. Her family fixed it up for her once she got the deal, it was a major "fixer-upper" at its original state. She kept an extra key by the back door during the renovation process, but she left it there as a spare. I took the opportunity, and claimed the key as my own.
I got out of my car, and walked to the back door, inserting the key and turning the knob. Grace was already home, cooking the most delicious smelling meal. The aroma was that of spaghetti, but it couldn't mask the scent of lavender throughout the house. I moved silently down the hall, after taking off my coat and shoes, and peered into the kitchen. She looked so amazing. I wanted her to be mine.
I loosened my tie at the thought of having her to myself as I stared. The thought of killing her, and dying hand in hand, passed through my mind, but I thought it was absurd. I wouldn't be able to do anything to her, let alone with her. Grace wasn't facing my direction anymore, so I took a chance. I lunged out of my hiding spot from around the corner, and grabbed her from behind.
I covered her mouth with my hand as she let out a muffled scream, and I wrapped my arms round her much tighter. I pulled her out of the kitchen, down the hall, and onto her leather living room couch. She was crying with mascara running down her cheeks. The sight was beautiful. Grace bit my hand, and I pulled away frantically. As I stared at the blood, she pushed me away and ran back into the kitchen. I was bleeding a lot, so I wrapped my hand in a white handkerchief from my pocket. The cloth absorbed the blood, and I heard rustling in the kitchen. I followed the noise, peered around the corner into the room. Grace was rummaging through various drawers for an object of defense.
"Grace, sweetie, you don't have to hide from me," I called into the kitchen while leaning against the wall opposite of the entryway.
"I don't know you!" Grace screamed as she was anxiously searching the area for anything to help her.
"Why it's me, Travis. I'm the one who gave you the house, dear," I explained softly. I stepped into the kitchen and stood behind her. She slowed and became motionless.
"Go away, please, just leave me alone," Grace muttered with tears running down her cheek. She was shaking from the fear of me.
"Now, why would I do that?" I whispered in her ear as I grabbed her by the waist. She flinched at my touch.
"Go… leave… Get out of here!" She yelled with rage, yet she was terrified. Suddenly she drove a long philips screwdriver into my shoulder.
I gasped in pain, clutching my wound. With fury, I spun Grace around and pinned her against the wall. I fingered the screwdriver handle, staring at her face being drained of color. I pulled the item out of my shoulder while breathing heavily. I had her by the throat and she was gasping for air.
"This is how you repay me?! After everything I've done for you!!" I bellowed in her face with severe wrath.
Grace choked and tried to pull my hands off of her neck.
"I gave you this house! All I wanted was for you to acknowledge me!" I shrieked and held the screwdriver up. Without thinking, I brought my hand down into her chest.
A muted scream escaped her, and blood stained her beautiful white shirt. I couldn't stop stabbing her. Blood started to come out of her mouth, dripping down her chin and onto the tile floor. She was stunning like this, I enjoyed it. Finally, she couldn't scream anymore, and I dropped her limp body to the floor. She twitched once or twice, then went still. I stared at her body, laying there lifeless. I began to cry, and then I called the police.
"What have I done?" I murmured while staring at my bloodstained hands. I fell to the floor and wept beside Grace. She was still beautiful.
The police arrived after what seemed like an eternity. They pulled me away from her perfection, and proceeded to put me in handcuffs. I stared blankly at the officer in front of me. A final tear fell from my eye.
"I didn't mean to kill her," I said emotionlessly.

About the Writer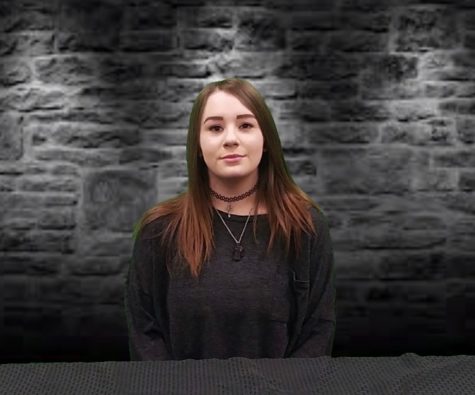 Jacqueline Tinga, WHS Literature Magazine Editor, Reporter
Hi, I'm Jacqueline Tinga. Y'all can call me Jackie, though. I'm very excited to be a part of this community. I've lived here in Williston for about...