Houston Astros cheating scandal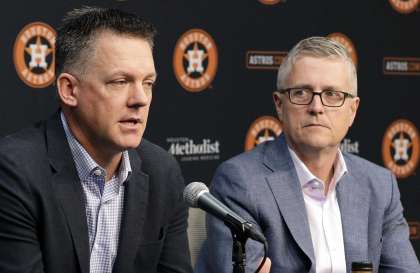 The Incident
The Houston Astros cheating scandal resulted from revelations that members and players of the Houston Astros organization in Major League Baseball (MLB) illegally stole signs of opposing teams using cameras during the 2017 and 2018 seasons. Other MLB teams had suspected that the Houston Astros were stealing signs for many years.
Mike Fiers, who was a pitcher for the Houston Astros organization in 2017, told The Athletic that the Houston Astros organization used a video camera in center field to film the other teams catchers' signs to the pitcher. Houston Astros players or team staff members watching the live camera film behind the dugout would then signal to their batter what kind of pitch was coming.
MLB opened an investigation into the allegations in late 2019, In January 2020, MLB confirmed that the Houston Astros illegally used a camera system to steal signs during the 2017 season and part of the 2018 season.
Background of sign stealing
Sign stealing isn't technically illegal in the MLB and has been apart of the game for a very long time. In 2014, as part of the expansion of replay review in MLB, all 30 teams were permitted to install video replay rooms in their stadiums with live camera feeds, and the dugout was permitted to communicate with staff members in the room. As MLB noticed that teams were potentially using the video replay room for other purposes, including sign stealing, MLB placed league officials in the replay rooms for the first time in the 2018 playoffs.
MLB discipline
On January 13, 2020, Manfred confirmed that the Houston Astros had illegally used a video camera system to steal signs in the 2017 regular season and postseason, and parts of the 2018 regular season. The Houston Astros were fined $5 million and had to forfeit their first and second round draft picks in 2020 and 2021. No players were punished because they had been given immunity by the MLB in exchange for their cooperation.
Continued Accusations
The discipline of the team did not stop additional accusations of sign stealing from being made. Rumors again circulated that Houston Astros players were wearing buzzing electronic devices during the 2019 playoffs that would relay a stolen sign through vibrations.