Mask Up Freshman Band!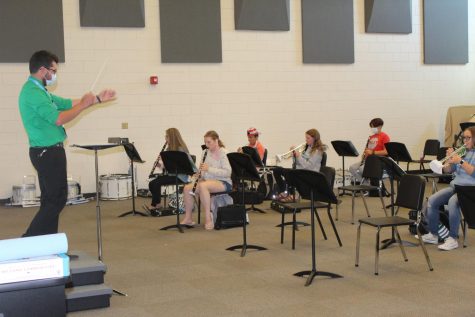 We all know 2020 has been a horrible year for many, with some people losing their jobs, leaving towns quiet, and causing people to keep a safe distance between each other. COVID has led to certain precautions, which means that we have to be social distancing and wearing masks at all times, including when we practice in band.
How is the Freshman Band dealing with COVID?
The band is taking precautions to make sure that the students are safe and still having fun. Mr. Bisbee made sure that the students still learn the way that they would if we weren't going through this pandemic. They have "masks" for their instruments to make sure that the bacteria doesn't spread. These "masks" that the band uses go on the bell of each instrument. For example, a clarinet player must put a piece of cloth and shoelace over the bell (at the bottom of the instrument).
Mr. Bisbee Reacts
We have interviewed students and interviewed Mr.Bisbee. Mr.Bisbee is the Freshman band, choir, and orchestra teacher at WHS. He has taken extra precautions to keep his students playing and having fun. Although COVID is affecting the way band students play, Mr.Bisbee says, "With the virus being transmitted through aerosols and our ensembles emitting aerosols with everything we do, we had to be creative. Every band wind instrument has a bell cover and all choir students are wearing masks.  With all of the guidelines we have in place, our numbers have dropped off this year, which is unfortunate, but safety is our number one priority.  After that, we are here to have fun and make music in whatever way we can!  COVID has presented its challenges, but we are doing our best to overcome them!"
Conclusion
Even though this pandemic has changed a lot of our normal daily tasks, we are still in this together–whether at home or at school or at work. Like the freshman band, we can hopefully be flexible, safe, and have fun. We can get through this together!