Williston Wonderettes Win Hip-Hop State Title 2nd Year in a Row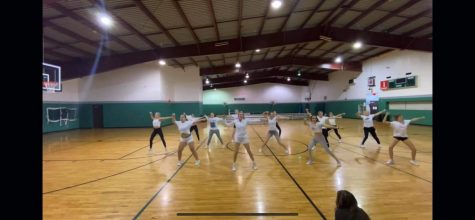 After a hard year, especially with Covid, the Williston Wonderettes are proud to say their hard work has paid off. On Friday, January 22nd, 2021, the girls competed in the State Dance Competition in Jamestown, North Dakota. They were happy to reclaim their Hip-Hop state title. This marks the second year in a row they won the state title for hip-hop. 
Throughout the 20-21 season, the Williston Wonderettes took home 11 first places, 2 third places, and 1 fourth place. "This year was challenging. We had to think outside the box on how to train effectively when we were unable to train together, as well as keeping everyone focused through the times of doubt," Tia Hennix, the coach, explained. 
Even though this year has proved to be a challenge, it also proved to be very rewarding. 
Coach Hennix also added, "We felt a lot of pressure to prove last season wasn't a fluke and that we deserve to be noticed as one of the top teams of the state." 
Competitions were also different this year because they only had a specific number of spectators allowed, meaning they only could watch other teams through video and live stream instead of in person, like they usually would. 
The girls went into state this year undefeated in the Hip-Hop category. The win in state allowed them to finish as an undefeated Hip-Hop team for the whole season. One of the team captains, Brooke Hawkins, describes her role as a team captain, "As a captain, my role is to be an example for my teammates and a supporter to anyone who needs it." She also states "The feeling of being a captain of such an incredible team is amazing and I am so glad I got to be a part of every single member's growth."
The only senior on the team, Dylann Mead, stated, "Honestly, I'm so sad to be leaving this team. They've helped me and pushed me harder than I thought I could be pushed. They really do become a part of your family from the day you start. They really helped me grow into the person I am today."
The drill team parents appreciate the team just as much as the girls' themselves do. One of the moms, Candi Hawkins, explains how it feels to be a drill team parent. She finishes her meaningful quote that helps the team, "I say it all the time, win or lose, they're still champions! Titles are just the icing on the cake!"
Although all the girls are sad to see this season come to an end, they are just as excited to return next season. Who knows what they can achieve after this? Only time will tell!